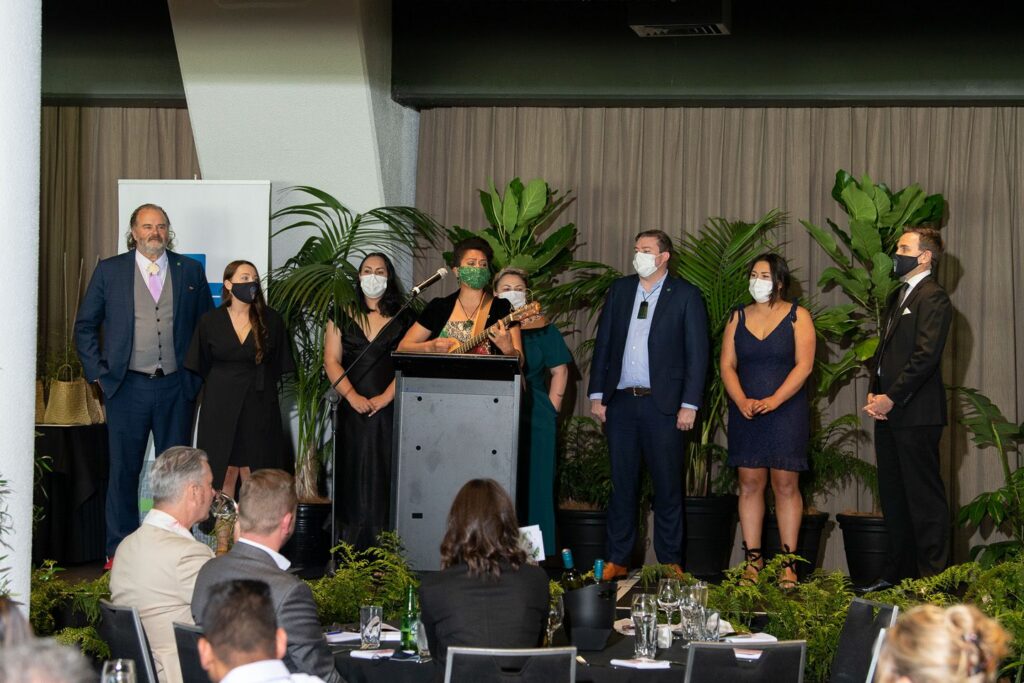 In a "yellowish alert level," keep your greetings to air kisses and elbow bumps, and don't forget to wash your hands
Being a far from conventional year, it was appropriate for National Hauora Coalition to throw a far from conventional awards ceremony.
The PHO had been expecting about 350 friends and colleagues to cram into the Tasman Room at Auckland's Alexandra Park.
The raceway had laid on a trotting meeting as a spectacular, and sometimes noisy, backdrop.
But, with the still-lurking shadow of possible renewed community COVID-19 spread, the decision was made to restrict the celebration on 13 November to about 100 Auckland-based guests.
Everyone had to mask up and treat their table companions as bubble-mates. Which meant trust chair Dame Tariana Turia couldn't be there; associate health minister Peeni Henare had to deliver his keynote address via Facebook Live.
Everyone else was left tracking their fortunes from home, either by the live stream or Twitter updates.
All the same, long-anticipated catch-ups threatened to break out once the doors opened and guests began searching for their table. The temptation to mingle was quashed by Papakura Marae GP and coalition clinical director Rawiri McKree Jansen, who took the mic and gently ordered, "e noho".
If there was going to be an event that turned into a superspreader anywhere in Auckland that night, it wasn't going to be this one. Consider it a "1.73 lockdown," Dr Jansen said, a "yellowish alert level", and keep your greetings to air kisses and elbow bumps, and don't forget to wash your hands. Got it?
And we're off
Formalities (even if informalities is more accurate) then began with a masked waiata before MC Pio Terei took the stage to launch into the rest of many stories. He kicks off with news of a fishing spot he has discovered at Waitangi. "It's right on the footpath," he says, explaining how a group of strangers had handed him 10kg of snapper.
It can't have been his easiest gig, as he divided his time between the sparser-than-expected audience and the camera providing the livestream feed, but no effort was spared in creating a whānau-friendly vibe.
After acknowledging notable guests such as board chair Dame Paula Rebstock, chief executive Simon Royal reviewed the primary care landscape.
"I believe we are on the cusp of changing the game of the health sector in New Zealand, particularly in ideas of any independent Māori health authority…and next year is going to be an even bigger year for collaborations," Mr Royal said.
The awards (progressed smoothly, although the volunteer standing in for out-of-town winners probably could have done with a sub at half time. Each winner received a framed certicate and a kete containing a totara sapling.
Collective kindness
But there was no ignoring COVID-19. Director-general of health Ashley Bloomeld, one of four practitioners recognised for their role in confronting the pandemic, provided a pre-recorded message lauding the coalition team: "The thing I am most proud of is that we have, together, done what New Zealand would want us to do. Keep them safe.
"My final comment…the role that kindness has played in our success. People talk about the curve crusher, but really, we've done it with collective kindness."
There was one further surprise, at least it was to the recipient, who slowly turned redder as his list of achievements threatened poor old Pio's lung capacity.
It was an inaugural presentation to recognise outstanding contributions to equitable outcomes. I would love to explain things in greater detail, but the winner told me in no uncertain terms that were I to name him, he would never talk to me again. Let's just call him Jawiri Ransen and leave it at that.
Transformation is real
Proceedings closed with heartfelt presentations to three whānau ora champions, an award dedicated to the memory GP Joe Williams, who died in September after contracting COVID-19.
One of the champions, Cindy Kiro, drew out a final Pio story. He and Professor Kiro were once part of a class of five taught by then June Waititi (now Dame June Mariu, formerly Black Ferns captain, basketball rep, and Māori Women's Welfare League president). It was 1974 and they were the first students to sit a School Certicate exam in Te Reo Māori.
Pretty much everyone meets someone who changes their life path, says Pio Terei, and for those five students, it was Miss Waititi. "She transformed lives."
Sure, one became a leader in the Headhunters gang – success is relative – but, of the other two, one is now a professor of Pacific languages and the other a ten-pin bowling magnate.
Pio's message: Keep transforming lives through quality healthcare because the long-term impacts can be extraordinary.
National Hauora Coalition awards and winners:
Whānau Auaha Award for Innovation: Whānau Ora Community Clinic
Mahia kia ea, kia toa Award for Can Do Attitude in Hauora: Three Kings Accident and Medical and Health Star Pacific Trust
Whānau Whai Hua Award for Outcomes in Hauora: Mahia Road Surgery and DW Family Doctors
Quality and Service Excellence Award: Hamilton Lake Clinic and Turuki Healthcare
Workforce Development Award: Taumarunui Community Kokiri Trust
Te Tohu Hautoa Award for Courageous Leadership: Ashley Bloomfield (Ministry of Health), Karen Bartholomew and Andrew Old (Waitematā DHB), Doone Winnard (Counties Manukau DHB)
Outstanding Contribution to Equitable Outcomes: Jawiri Ransen
Whānau Ora Champions: Henare Mason, Cindy Kiro, Wayne McLean
This article was originally written for nzdoctor.co.nz by Alan Perrott and is published with permission.
Read the original article here